Subaru Technology
From the Outback to the Forester and everything in between, the Subaru lineup is filled with innovative, intelligent, and capable vehicles. Each vehicle is engineered to provide the smartest and most efficient performance in every way, starting with underneath the hood.
In fact, the Subaru name is known for its capability on and off the pavement. That Subaru-grade performance comes from the highly innovative Subaru Symmetrical All-Wheel Drive. Unlike many other all-wheel drive systems, the Symmetrical All-Wheel Drive balances the weight of the Subaru vehicle between the four wheels by aligning the system with the center of the vehicle. As a result, the power going to each wheel doesn't have to deal with an extra weight burden, providing optimum grip and control.
However, the Symmetrical All-Wheel Drive isn't the only way in which the engineers at Subaru use balance to create a better design. The smart SUBARU BOXER® engine is a flat, horizontal engine that lays low in each Subaru vehicle. A low center of gravity makes for a well-balanced vehicle that drives with good handling.
The Subaru Symmetrical All-Wheel Drive and the SUBARU BOXER® engine are two examples of innovative designs that make for an unbeatable performance. Learn what other smart technology and engineering goes into each Subaru vehicle at DeVoe Subaru of Naples today.
Technology Features
When it comes to engineering, balance is an important part of the Subaru lineup. But Subaru makes balance just as relevant in its gadgets, too, only this time each Subaru is balancing indulgent entertainment with information and useful features that make each drive better and more efficient.
Take, for instance, the SUBARU STARLINK™ system.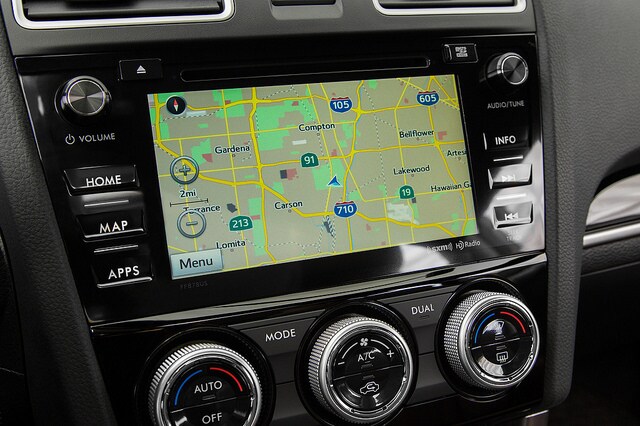 This smart infotainment tool can connect you with almost anything you could think of, from the weather to your favorite podcast. Use it to sync up with your smartphone and connect with your contacts or your media library. You can also use SUBARU STARLINK™ to download apps like iHeartRadio® or Stitcher radio. Plus, every Subaru vehicles features standard Bluetooth® connectivity, so you can connect your devices while keeping your hands on the wheel. There's plenty that the SUBARU STARLINK™ system can do, so be sure to stop in at DeVoe Subaru of Naples and we'll help you get the most out of this tool.
Everything about the SUBARU STARLINK™ system is designed to give you what you need to make your in-cabin experience more enjoyable and effortless. However, the Subaru tech features don't stop there. The brand has also put its innovative designs toward something that will help you stay in touch with what's outside of your cabin as well. The Subaru EyeSight tool works like another set of eyes while you're driving, and forms the basis of smart driver-assist technologies that keep you secure and safe on the road, like automatic pre-collision braking, adaptive cruise control, and lane-keeping assistance.