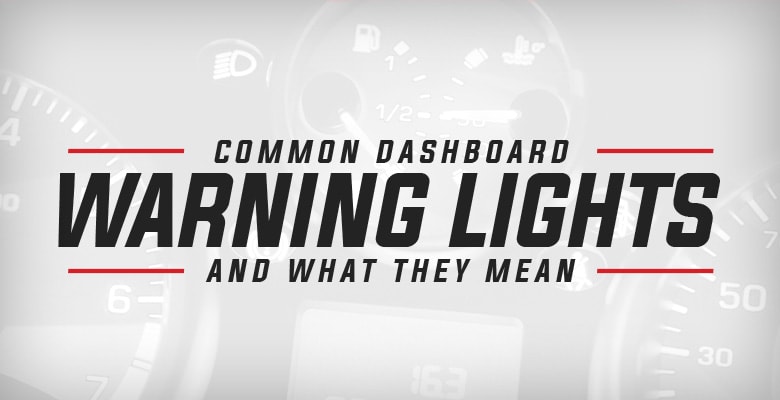 Your car is equipped with numerous dashboard warning lights. These lights are there to help you, but they can sometimes be difficult to interpret. Here are some of the most common warning lights and what they mean.
Check Engine
When this light turns on, there are a wide range of issues that can cause it. These issues can range from a loose gasket to something a lot more serious. It's best to have the check engine code read by a professional to
see what is causing the problem
.
Oil Pressure Warning 
If this light turns on and stays on, it indicates a loss of oil pressure. Check the car's oil level as soon as possible.
Coolant Temperature Warning
If your engine has exceeded normal temperature limits, this light will turn on. Check your coolant level, radiator cap, and fan operation.
Battery Alert
When your battery voltage is below normal or when your charging system is not working correctly, this light will turn on.
Inspect your battery
and/or have it tested.
Tire Pressure Monitoring System
All new cars are equipped with this system.
This light
turns on when your vehicle senses the pressure is low in one or more of your tires. Check the pressure and refill as needed.
Gas Cap
This image is not a giant screw going into your car. This light means the gas cap may be loose or missing. Check it to make sure it's tight enough.
Airbag Fault
When this light turns on and stays on, there is a problem with the airbag system. Have your car inspected immediately, for your safety.
Lamp Out
This light doesn't mean it's a sunny day; it means there is an exterior light on
your car
that is not functioning properly.
Washer Fluid Reminder
This light means your washer fluid is running low. Refill the reservoir under the hood. Some vehicles have two reservoirs, one for the front and one for the back.
Do you have a dashboard warning light on? Stop by and see our
certified service
team here at DeVoe Subaru of Naples! We're proud to serve customers from Fort Myers and Bonita Springs! Bring in your Subaru for the best possible care today!