Commitment to Community
At Subaru of Naples we strive to not only provide outstanding professional automotive service to our customers but to also support the people and businesses in our surrounding areas. Naples, FL is our home and we have made it our goal to give back - whether it be through donations, hosting events, or sponsorship - it is our way of saying "thank you" to the businesses, organizations and people of this area.
If you have an idea for an event or any possible sponsorship opportunities please
contact us
today!
Valerie's House Holiday Party 2021
The Naples location for
Valerie's House
had a wonderful holiday party with food, music, games, gifts, therapeutic animals, craft making, ornament decorating, and more. As our Share The Love home town charity this year Subaru of Naples could not wait to help them in making their holiday party one to remember. Valerie's House is the first and only grief support center in Southwest Florida focused solely on helping children grieve.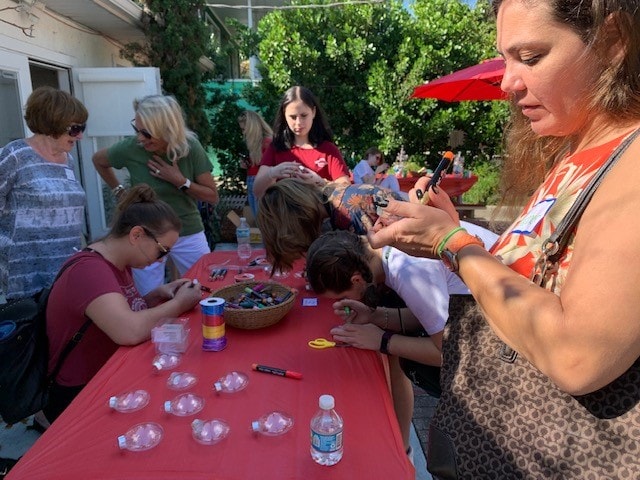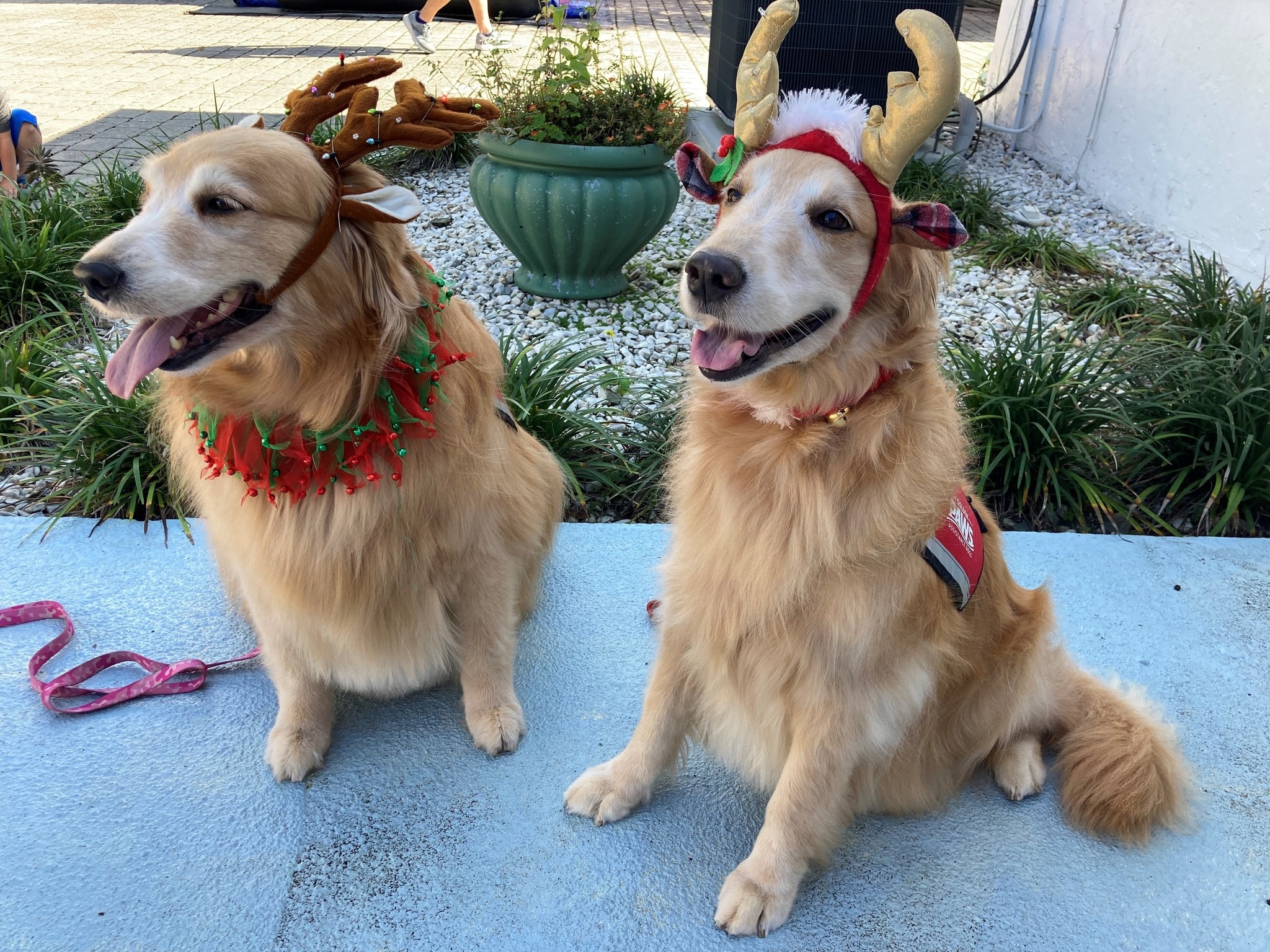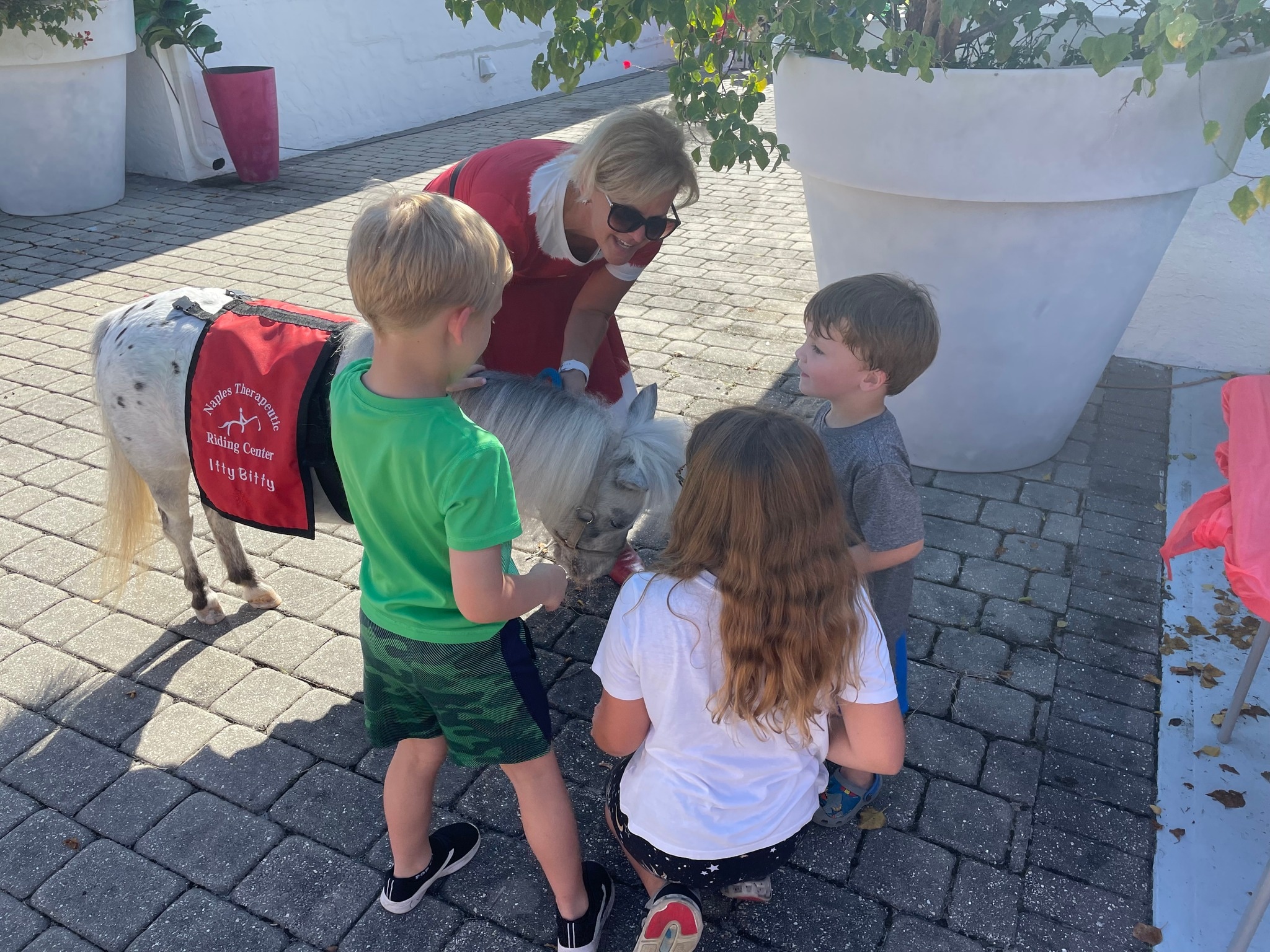 The
Birth Place at NCH
in Naples, FL is now the proud owners of a Child Safety Passenger (CPS) Simulator Training Seat! Proper car seat installation and use is an important part of keeping our little ones safe and healthy. Now, new parents can feel confident driving their precious cargo home from the hospital.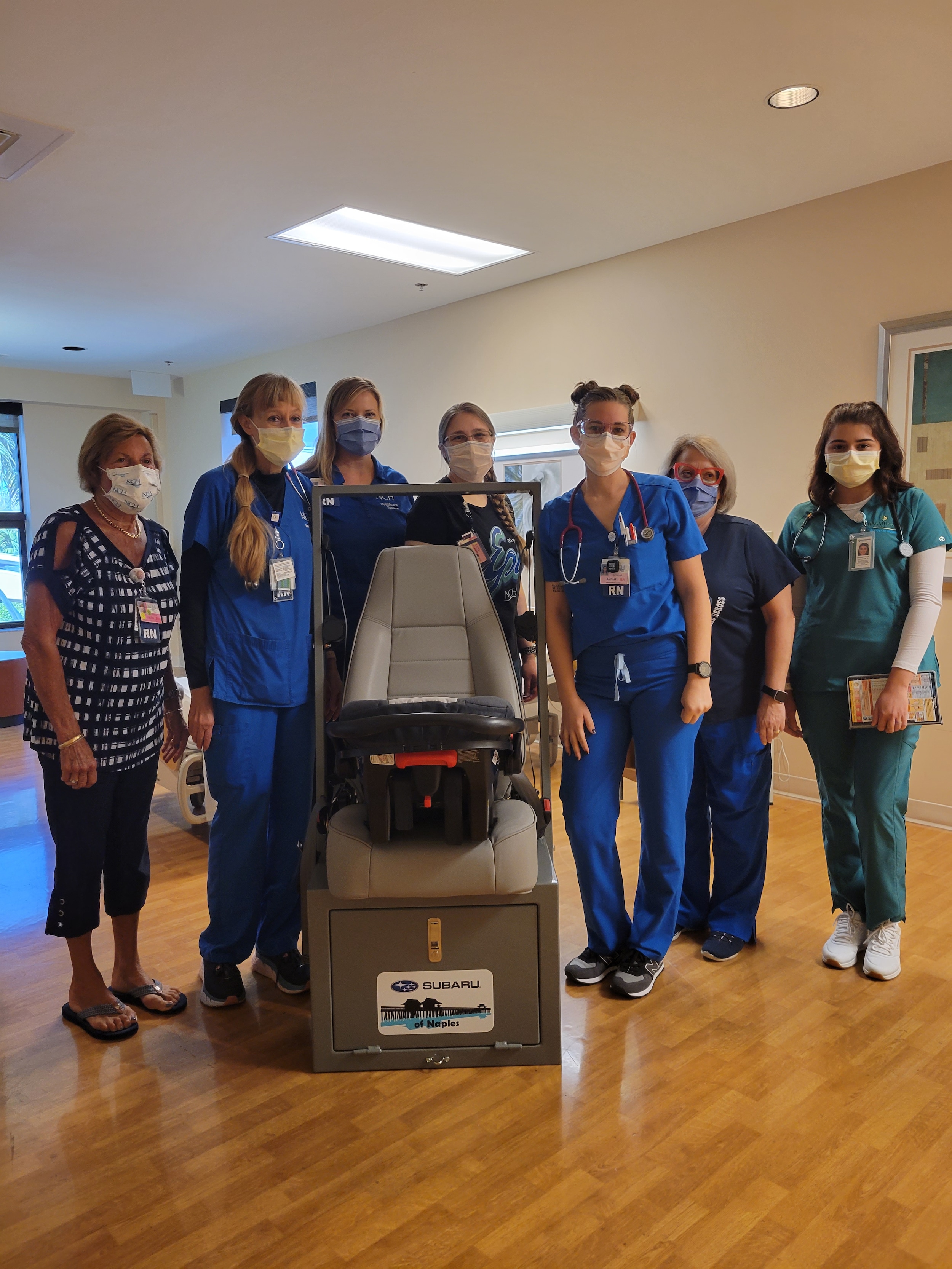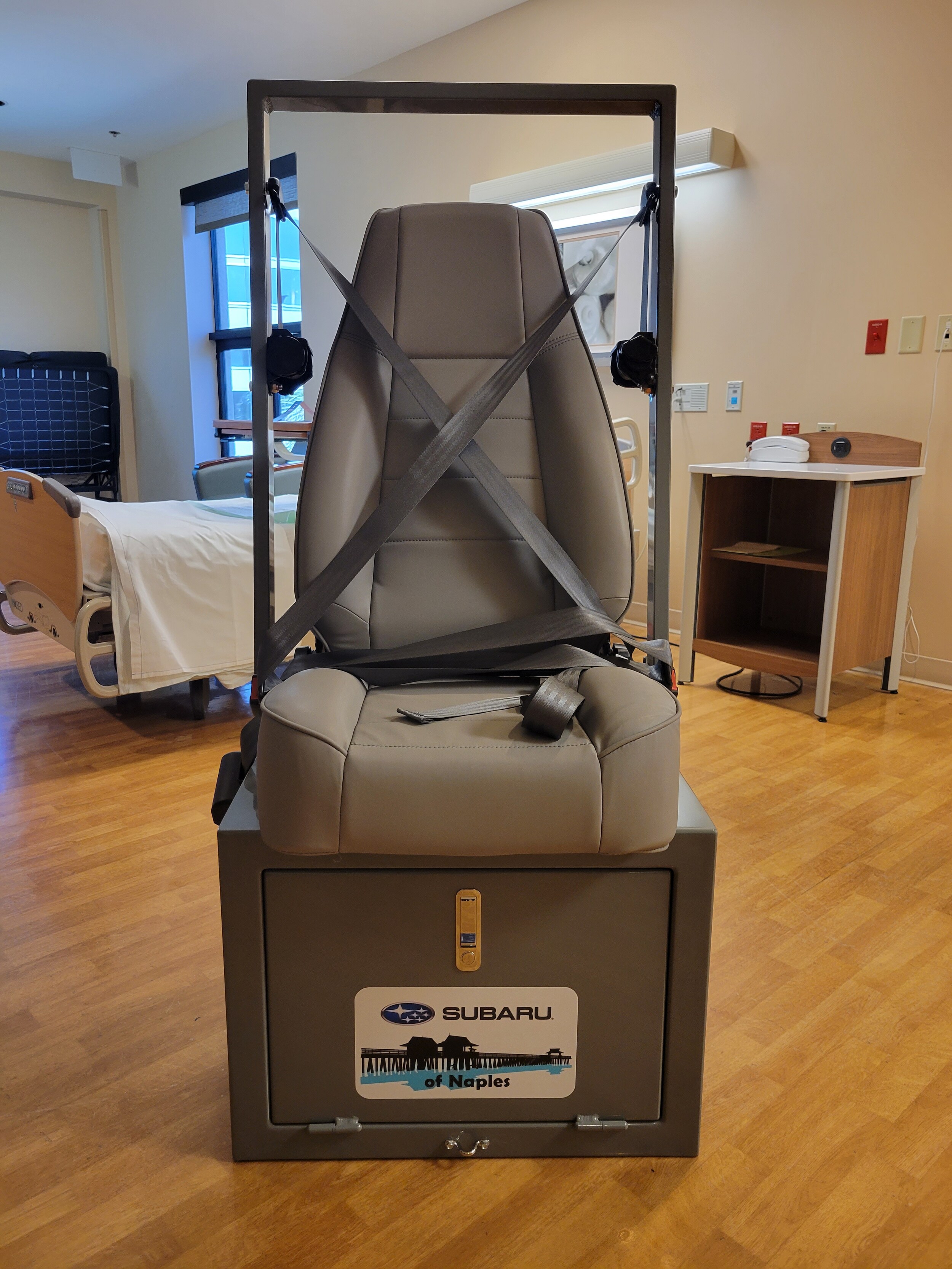 Bikes For Tykes Bike Build 2021
This year Subaru of Naples has partnered with
Bikes For Tykes
to give 200 children this holiday season a new bike for Christmas. In November the bikes were all delivered to the Subaru of Naples showroom in boxes needing to be built. This led Subaru of Naples and Bikes For Tykes to their first community Bike Build together. During this event volunteers came from all over the community to lend a helping hand. There were members from 5 local schools, 3 Kiwanis clubs, 2 Key clubs, 1 Rotary Club, Bikes For Tykes, Inc, and of course Subaru of Naples. With everyone's help all 200 bikes were able to be built in 1 hour!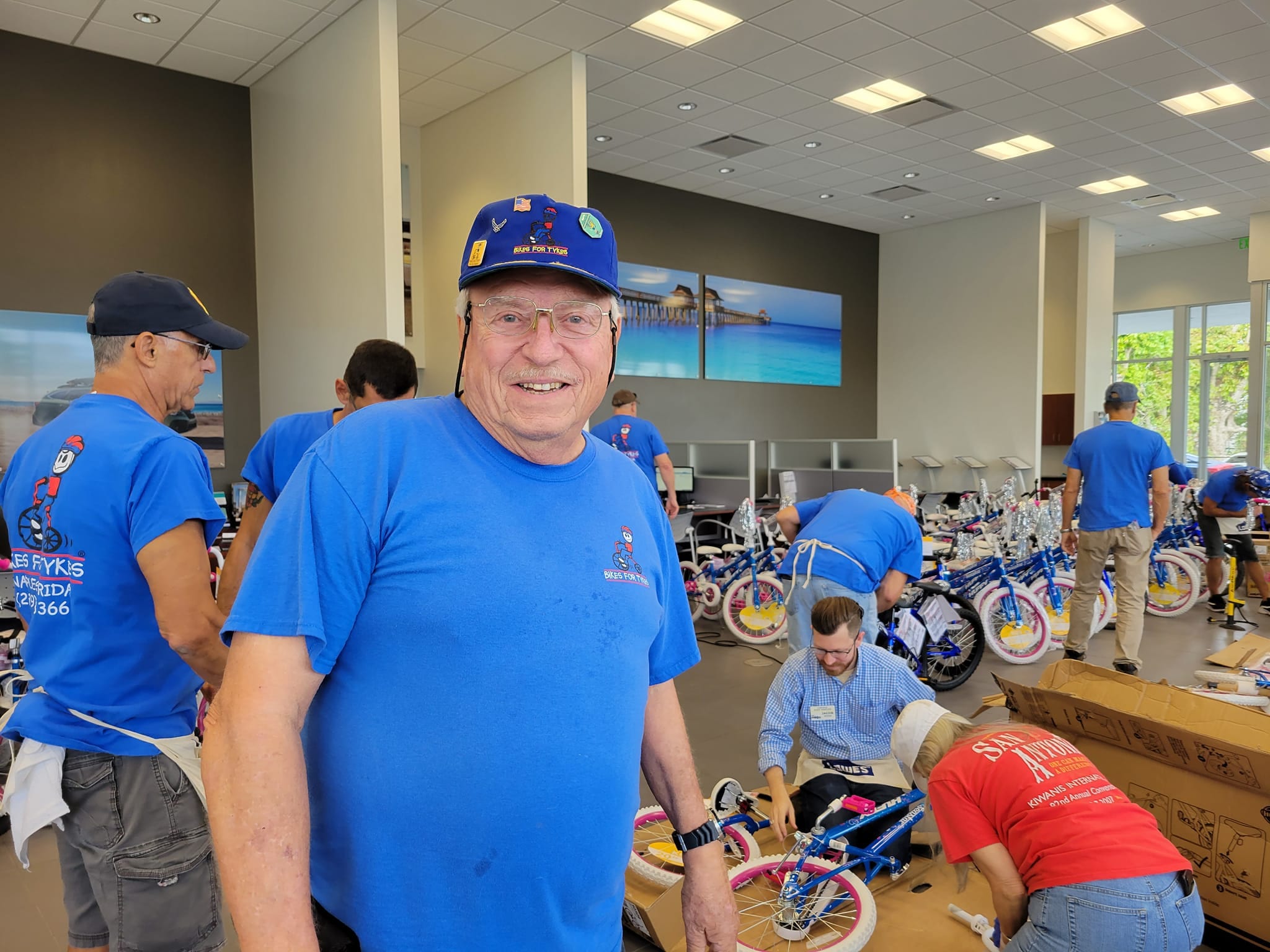 June Dog of the Month Tweed!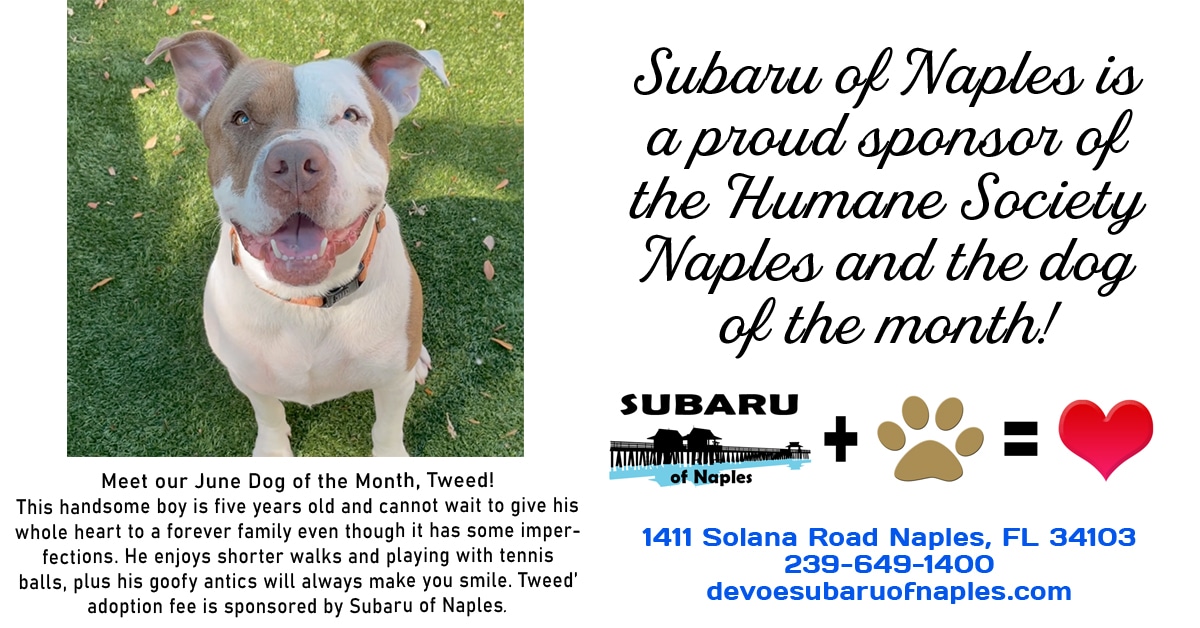 Click Here
to learn more about Humane Society Naples Dog of the Month!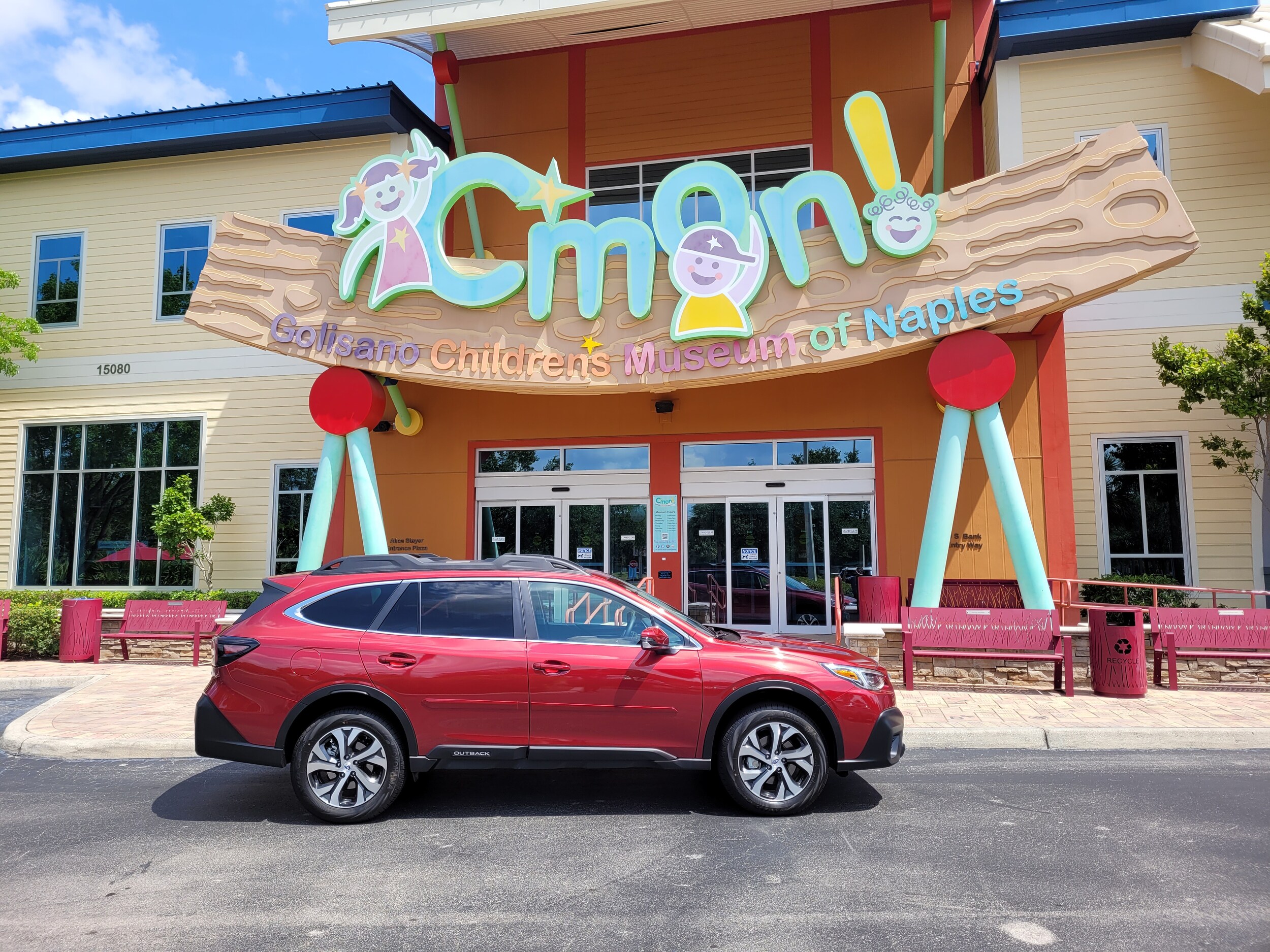 April Earth Day Event During the month of April for every vehicle sold we gave customers a tree to take and be planted. At Subaru of Naples we love the Earth!
Baby Basics During the Subaru Share the Love Event our Hometown charity we have chosen to support is Baby Basics of Collier County.
 Photo of Subaru of America along with General Manager Melinda Harrison presenting Baby Basics of Collier County a check for $15,003: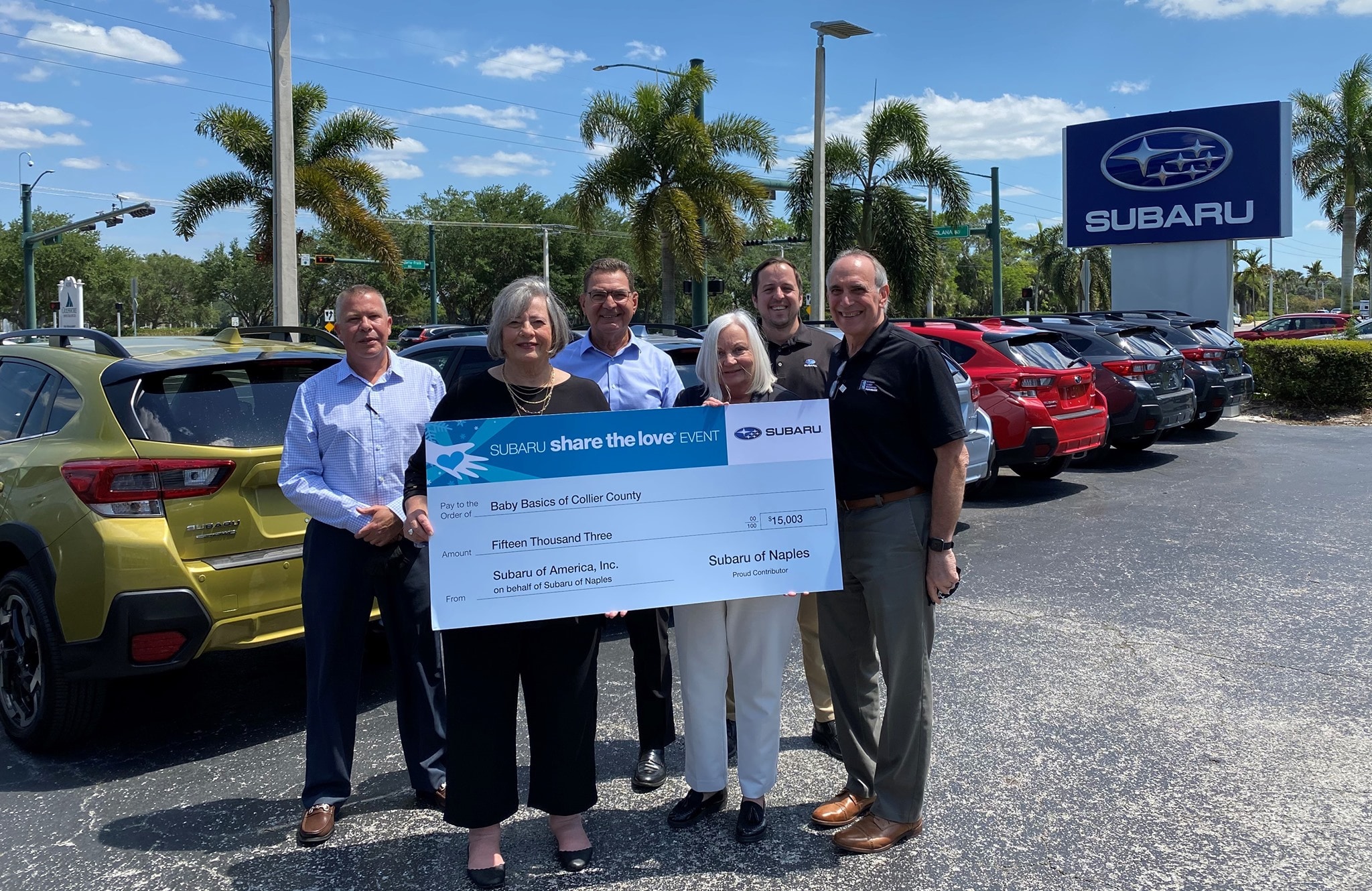 2019 DeVoe Scholarship Recipients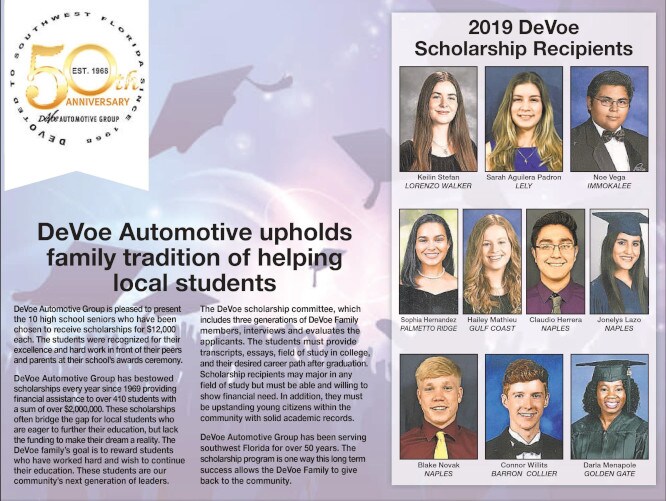 Subaru of Naples is proud to be partnering with the Leukemia and Lymphoma Society this June.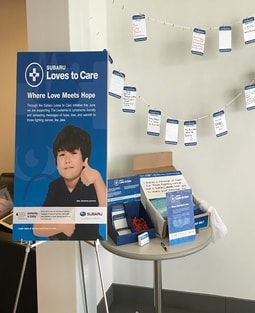 The
Leukemia & Lymphoma Society
(LLS) researches in hopes to someday cure blood cancers. By partnering with LLS Subaru is allowing us a chance to spread hope to cancer patients, families and communities across the country. LLS is the world's largest heath organization dedicated to funding blood cancer research, education and patient services. To learn more about this amazing organization visit their website
http://www.lls.org/.
When visitors to our dealership write a message of hope to acknowledge their contribution, they will receive bracelets in hope to help spread awareness of the initiative. Subaru of Naples will also be donating co-branded blankets to those fighting cancer in local hospitals.
| | |
| --- | --- |
| Subaru of Naples if a proud sponsor of the Humane Society of Naples. The Humane Society of Naples has recently announced two special adoption programs: Dog of the Month and Cat of the Month. We are committed to helping adoption fees for the shelter dog of the month to make sure each dog can find it's furever home. To learn more about the program, please click here. |    |




Meet Apollo, DeVoe Subaru of Naples' Dog of the Month! 

Here's a little bit more info about him in his own words - 

My name is Apollo and I am an astronomical guy! We have this vast universe to explore and I intend on not wasting one moment of possible adventure. Like a rocket my energy can get us to the moon and back but I have yet to find my co pilot in life. Could you be the one?


Apollo's adoption fee is sponsored by DeVoe Subaru of Naples and he will go to his furever home with a Subaru swag bag.

  
---
Subaru of Naples is a proud supporter of Naples High School. We want to congratulate the football team on their blowout Homecoming victory over the Golden Gate H.S. Titans and their current Undefeated record. Go Golden Eagles!    
Subaru of Naples has established a National Wildlife Federation's Certified Wildlife Habitat here in our local community
.
During the month of April we taught our community about what we're doing to save our nation's monarch butterflies - and had had visitors pledge to support the butterflies themselves.
Learn about the four stages of a butterfly's life cycle in detail at
http://www.thebutterflysite.com/life-cycle.shtml
.  
All butterflies have "complete metamorphosis." To grow into an adult they go through 4 stages: egg, larva, pupa and adult. Each stage has a different goal - for instance, caterpillars need to eat a lot, and adults need to reproduce.
Visit our butterflies Legacy, Forester and Impreza at Subaru of Naples and receive a seed packet kit! 
Our butterflies are in stage three! Check out the photos below and come to the dealership to see their progress!
                        Forester- Day 14                                                          Impreza - Day 14                                                        Legacy - Day 14
----------------------------------------------------------------------------------------------------------------------

 
Forester

 
Legacy


 
Impreza

 
Their Home

Subaru Loves Learning
In celebration of Subaru loves learning, The DeVoe team donated went in and donated books to Naples Park Elementary. We hope the kids love the books as much as we enjoyed giving them out!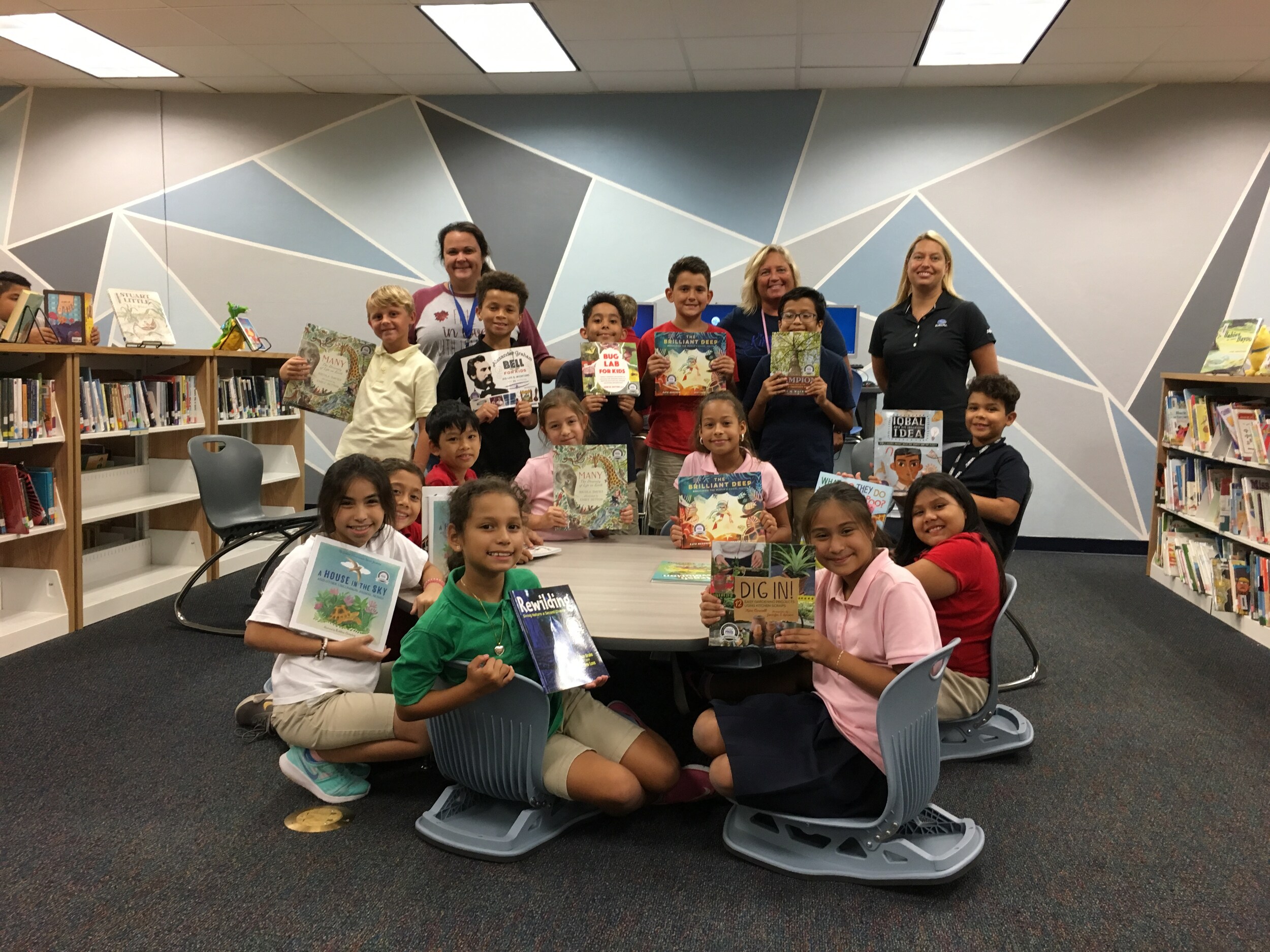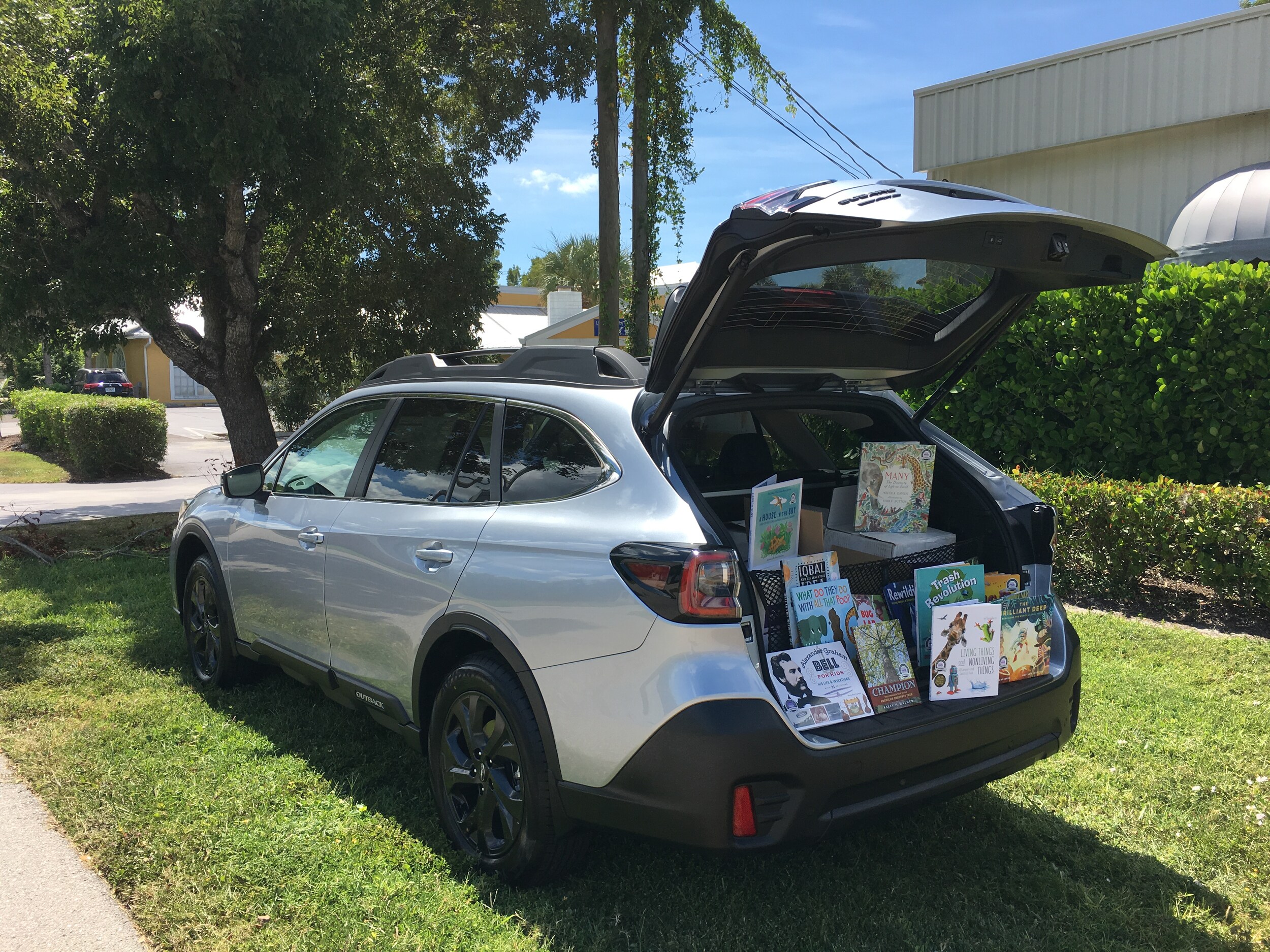 Subaru Loves Sharing
Melinda Harrison our General Manager and Emily Reed Marketing Manager on 12/17/2019 helping to support our Home Town Charity Baby Basics Collier County out in Immokalee.  Each child received a Subaru themed gift bag full of fun goodies like the plush golden retriever stuffed animal and families in need were provided diapers as well.