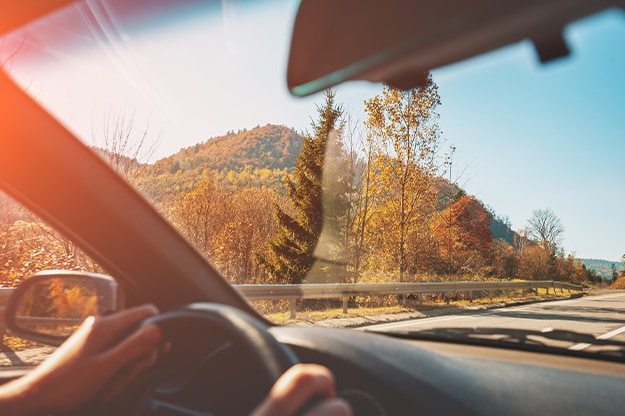 Now that summer has faded into fall, it's a great time to prep your vehicle for the changes that a new season brings. Getting a tune-up is a smart way to prepare your car for unpredictable temperatures and inclement weather.
Here are a few items to keep an eye on and what you can do to make sure your vehicle is fall-ready.
Make time for washing and a wax.
Getting a good wax job will protect the exterior from the elements and road debris. Bring it in for a thorough cleaning first to remove any lurking dirt from the summer.
For some real special treatment, you might even consider asking our service advisors about paint protection or detailing services that'll last you through many seasons.
Have your windshield wipers replaced.
Worn down wipers will make less contact with your windows, which can greatly decrease your visibility and lead to a possible safety hazard. After a long, hot summer, it's likely the rubber on your wipers isn't at its best.
Keeping your windows clear with a new set of wiper blades will help maintain your security during your fall travels when a pop-up thunderstorm or other unpredictable weather can hit at any time.
Schedule that oil change.
Having your oil changed per factory recommendations based on mileage and time is always important, especially when you're getting your vehicle ready for a new season. Summer driving is a common culprit for added debris in your oil, so keep your engine and all its many components running smoothly with an oil change from our expert team.
Get your battery tested.
Nobody wants to deal with a dead battery, and this is especially true during the cooler months of the year when you may have to wait a while for a jumpstart.
Signs of wear and tear or corrosion can all go undetected by the untrained eye. Our technicians will do a full visual assessment, as well as test your battery for performance, and replace it if need be.
Keep your lights shining bright.
Shorter days means there's a greater need for your headlights, taillights, brake lights, and flashers to all be working properly. If you notice a bulb has burnt out, don't ignore it. Bring it into our repair shop right away to have it replaced.
Don't neglect your tires.
As you drive, your tires lose their tread, which means they may not perform as well as they should when you need them the most. Changing air pressure as temps fluctuate also do a number on the reliability of your tire's rubber.
If you're past due for a tire rotation or a full replacement, we would love to talk to you about your options and help get your vehicle some new shoes for the upcoming season.
When you bring your car in for a check-up, we'll assess these items, along with a host of other critical factors to ensure your vehicle is ready to go for your next fall adventure. Schedule a visit with our service team today and get the peace of mind you deserve.