The 2021 Subaru Love Promise Customer and Community Commitment Award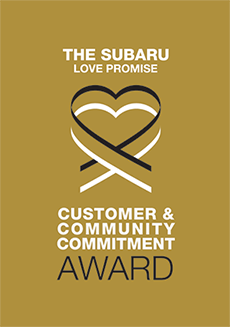 We've been nationally recognized for our dedication to our customers, our community, and the Subaru Love Promise.
We're honored to receive the 2021 Subaru Love Promise Customer and Community Commitment Award. This award nationally recognizes elite Subaru retailers who provide an exceptional customer experience at every interaction with Subaru. These retailers have also demonstrated an outstanding commitment to supporting passions and causes in their local communities in important areas such as the environment, community, health, education, and pets.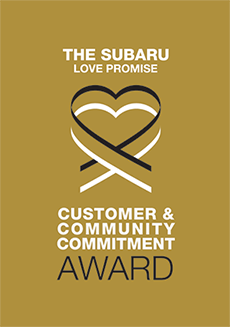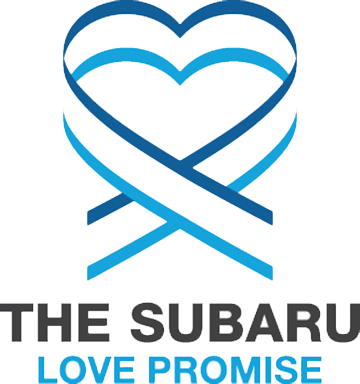 What is the Subaru Love Promise?
Subaru and our retailers believe in making the world a better place and the Subaru Love Promise is our vision of respecting all people. This is our commitment to show love and respect to our customers and to work to make a positive impact in the world.
How is Subaru of Naples dedicated locally to the Love Promise?
Our Love Promise can be seen in various partnerships with local charities and non-profits. We're grateful for the opportunity, not only to be a part of our community, but to serve it as well. DeVoe Automotive has been involved in the local community for over four decades and we are proud to continue that tradition.
Golden Rescue of Naples, Naples Dog Park, Guardian Angels of Naples, Humane Society of Naples
Conservancy of Southwest Florida
Peter Thomas History Fund
Greater Naples Little League, Naples Touchdown Club, St. Matthew's House, Youth Haven, Naples Children & Education Foundation
National Kidney Foundation, Naples Community Hospital, Neighborhood Health Clinic, Bosom Buddies
Love Promise Stories from Subaru of Naples
Subaru and Subaru of Naples believe in making a positive impact on the communities in which we live and work. We uphold that belief through our Love Promise Community Commitment. Every month, we select inspiring stories from customers and partners from around our area who strive to support our collective commitment and feature them here
DeVoe Subaru of Naples and RCMA - Jay R
On August 8th. Emily Reed from DeVoe Subaru and other staff visited RCMA in Immokalee and delivered backpacks and school supplies. Emily was able to meet our child development center Area Coordinator Ida Eguia, and our School Principal Zulaika Quintero. The staff from DeVoe also observed our children learning in the classroom, enjoying nutritional snacks, and playing on the playground. On behalf of RCMA, I personally want to thank DeVoe Subaru of Naples for the backpacks and school supplies that were provided for our students at the Immokalee Community Academy. The notebooks, markers, writing supplies, and other miscellaneous items were a huge benefit for our students. The students were happy and grateful to receive the items at the beginning of the school year. RCMA looks forward to continuing our friendship and partnership with such a prestigious and high quality automotive dealer like DeVoe. Thanks to everyone at DeVoe Subaru!
---
Subaru Loves to Care - Alexis C
Subaru of Naples has once again partnered with the LLS Suncoast Chapter to spread hope, love, and warmth to those fighting cancer through small gestures of caring and donating 80 blankets to cancer patients. These comforting gifts, were accompanied by personalized messages of hope written by the customers and staff of Subaru of Naples. During this particular year, blankets were mailed to each cancer patient at the hospital or at home due to COVID-19 restrictions. LLS is proud to partner with Subaru to spread courage, joy, and warmth to those fighting cancer, across the country and right here in the Naples, Florida community. Since 2016, Subaru and it's retailers are proud to have donated over 167,000 warm blankets to patients across the nation. Many thanks to everyone at Subaru and Naples Community Hospital, not only for a memorable blankets, but for supporting LLS' mission to cure blood cancers and improve the quality of life of patients and their families.
---
Helping fill in the gaps! - Emily R
This August, Subaru of Naples adopted 10 Classrooms at Naples Park Elementary through AdoptAClassroom.org. Subaru of Naples is proud to be able to support Naples Park Elementary school by funding the purchase of supplies, materials and tools needed to help their students learn and succeed. "The teachers that applied for the grant with us are so excited, because it gave them the opportunity to get a little more creative outside the traditional resources they have and really expand on the lessons they want to do with their kids. It's really increasing the level of rigor and the learning that's going to be happening and giving them the tools and resources to do that!" explained Katie Maya Principal at Naples Park Elementary. According to a study by AdoptAClassroom.org, 92% of classrooms have students whose families cannot afford school supplies. Educators fill the gap, spending an average of $750 a year out of their own pockets. "I think this program and a lot of our other community partners, really help to make sure the kids in this community are well taken care of. We absolutely have kids that come ready with the school supplies and we always have that handful that don't. So if we can fill that gap to make sure all of our kids have absolutely everything they need, because yes absolutely our teachers go into their own pockets consistently to make sure there are no gaps for the kids and they can all have the best educational experience and they do it to enrich their lessons as well" added Katie Maya Thank you Naples Park Elementary for supporting, educating and enriching the youth of Collier County!
---
Thank you for your commitment to our community. - Desiree C
Thank you, Subaru of Naples, for supporting the Golisano Children's Museum of Naples (CMON) and our mission with warm hearts and much gratitude. Your support and generosity of the 2021 Night at the Museum event helps to make a difference to our community's children. It is inspiring for us to know that with your help, CMON will continue to provide a haven where families and children can play, learn, and dream together – for the generations to come. Thanks to you, children can continue to create art, explore sensory-rich exhibits, and discover the magic of science. Additionally, your donation helps fund programs that benefit the underserved in our community, provide greater outreach to local schools, develop hands-on learning workshops, and so much more!
---
SUPER HEROES get recognized in Naples - Monica B
The American Nurse Association announced that Nurses Week was extended to Nurses Month! As the largest group of healthcare professionals in the United States, nurses' impact on health and health care is unparalleled. Nurses Month provided opportunities to promote understanding, awareness and recognition of this profession. Thanks to our sponsor, Subaru of Naples, NCH was able to celebrate our nurses and clinical teams with a variety of activities during the week of May 6 thru May 14. Thanks to Subaru of Naples, Clinical Ladder teams were recognized with a Peace, Love and Little Donuts breakfast; both campuses, Downtown Baker and North Naples were visited by the Naples Equestrian Challenge, who brought the mini horses for wellness day, providing much relief to our teams; and also our nurses and clinicians were surprised with wellness gifts, which included stretch bands, water bottles, gym bags, etc., Thanks to Subaru of Naples for providing 1,000 gifts! NCH strives to recognize our teams through multiple programs. Recognizing nursing caregivers for the work they do and the contributions they make is vital. From delivering high-quality patient care, to positively impacting society, nurses are imperative to the success of their organizations, profession, and healthcare in general. For leaders, ongoing recognition and celebration not only effectively showcases deep appreciation, but it can also positively impact employee morale and improve engagement. Thank you Subaru for partnering with us in such an important role, your generous sponsorship allows us to recognize our hard working nurses and clinicians who bring compassionate care to all our community.
---
Subaru of Naples Celebrates Earth Day - Emily R
Subaru of Naples celebrated Earth Day and Subaru Loves the Earth, the entire month of April by giving each customer, who purchased or leased a new or used vehicle and service customers, a tree to take home to plant. Subaru of Naples had a variety of palms and hibiscus trees that were purchased from a local nursery for customers to choose from. "We wanted to celebrate Earth Day by giving our customers a tree that would benefit the environment, look beautiful and give back to our community" explained Rich DeVoe, General Sales Manager for Subaru of Naples. When people plant trees they are doing more than just beautifying an area. Trees are beneficial to the environment in numerous ways. They help produce oxygen and filter out pollutants to clean the air. In addition, trees also help preserve water levels in the soil. Planting a tree in one's own yard is the obvious solution when it comes to where to plant. Fruit and shade trees are a good choice when deciding the type of trees to plant. When planted in the right location, shade trees can help keep a home cool and reduce energy costs.
---
Subaru of Naples gifts $15,003 to Baby Basics - Jean Ann L
Baby Basics is honored to announce that Subaru of Naples has delivered a check to the nonprofit in the amount of $15,003 as one of its community charity partners for the annual "Share the Love" event. "One of the reasons we're so proud to be a part of the Subaru family is the commitment to making the world a better place in any way possible. A big part of this push is the annual Subaru Share the Love® event," explained Emily Reed, Director of Marketing for Subaru of Naples. "We value our partnership with Subaru and are humbled by their commitment to helping us provide diapers and kindness to the families we serve. This money will allow us to further expand our reach in the community," added Jean Ann Lynch, President of Baby Basics of Collier County. ABOUT BABY BASICS: Baby Basics of Collier County accepts monetary donations online as well as corporate and individual donation of volunteer time. Individuals and corporations can also Text GIVE to 2393606751. To inquire about volunteer or donation opportunities, please email info@babybasicscollier.org or visit our website, www.babybasicscollier.org .
---
DeVoe Subaru of Naples Helps Grant Wishes - Taylor N
The 5th annual Mac & Cheese Challenge took place on May 1st benefitting Make-A-Wish Southern Florida. This event is hosted by the Youth Leadership Committee which is a group of 7th-12th graders from Lee and Collier Counties who fundraise and volunteer all year long to help grant the wishes of local children battling critical illnesses. DeVoe Subaru of Naples was a new sponsor to this event and they were a shining star day of. DeVoe Subaru committed to be a Golden Spoon Sponsor for the event but they also provided a fun and interactive day-of table display. Thank you to Emily Reed and her team for supporting the event, attending the event, and being a partner to Make-A-Wish Southern Florida. We are now able to grant over 4 wishes to children in the Southwest Florida area. Thank you DeVoe Subaru of Naples for your support, we couldn't do it without you!
---
Providing diapers to low-income families - Jean Ann L
Baby Basics is a simple program that provides diapers to babies from low-income families who are working and do not receive federal or state cash assistance. We give diapers and kindness. To a family struggling to make ends meet we are a helping hand not a hand out. Our families tell us: "Knowing I can count on diapers for my baby every month gives me PEACE". In today's difficult world what a gift. Families tell us they use the money formally spent on diapers to buy food. One mom said, " I could buy my babies some new t-shirts." Diapers are expensive and so if we can help families provide the necessities for a baby, we know the baby will be healthier and happier with less chance of diaper rash and infections. Thank you Subaru for helping us to make a difference in the lives of these innocent babies. Jean Ann Lynch President
---
Restoring Christmas Joy to over 200 Children - Skip R
Dear Collier County, All of us at Bikes For Tykes, Inc. want to wish you a Merry Christmas. With all the problems that the virus has presented, I feel the need to let you know, how we were able to make Christmas happen for hundreds of children in Collier County. You may or may not know, that there was no 'Toys For Tots' or Salvation Army Toy give-away this year. Because of this, smaller charities had to step up and try to fulfill the Christmas requests. The pandemic also impacted smaller charities such as Bikes For Tykes, Inc. by way of loss of donations, which allow us to do our work for children. Our goal was to purchase 200 new bikes, which was a small dent in the need (the first week we received over 5,000 application), but we were determined and needed financial help from an "angel" to purchase the bikes. Then 'who to my wondering eyes did appear, but Subaru of Naples with hearts full of cheer', let us help, relieve your plight' so we may fill Santa's Sleigh Christmas Night. How the elves of Bikes For Tykes loved it, as they continued to work with glee, making all the bikes for boys and girls to put under the Christmas Tree. Kind of sounds familiar doesn't it? Bikes For Tykes, is incredibly THANKFUL to Subaru of Naples for their financial help. With every new or used Subaru sold, they donated a BRAND NEW bicycle to Bikes For Tykes, Inc. It truly was a 'Magical Christmas Gift'. The virus Grinch was thwarted and all the children of WHOVILLE (Collier County) will be able to have a very MERRY CHRISTMAS. From all of us at Bikes For Tykes, Inc, Merry Christmas to all and to Subaru of Naples a Good Night Sincerely, Skip Riffle, Head Elf and the 'unsung heroes' of Bikes For Tykes, Inc. Bikes for Tykes mission is to ensure every child in Collier County has a bicycle. Founded in 1987, in Naples, FL, Bikes for Tykes® was developed from the simple idea that any child with a bicycle on their Christmas wish list should receive that all empowering and memorable gift, even if their family cannot afford one. The first child to have his Christmas wish granted was Joshua, age 6. His name was on a paper angel at a local restaurant that was trying to help some local, underprivileged children and have a Christmas they would not otherwise have. Joshua received his reconditioned bike and thus the Bikes for Tykes, Inc. program was born. Since then, close to 19,000 children in the Naples area has received a bright and shiny reconditioned bicycle. At Bikes for Tykes Inc., in Naples, Florida, we sand away the old paint; then primer and repaint the bikes with the current popular colors. We strip the rust from old wheels, replace the old worn tires, pedals, grips and anything else which will make the bike safe and new looking again. BIKES FOR TYKES has become one of the truest forms of "recycling."
---