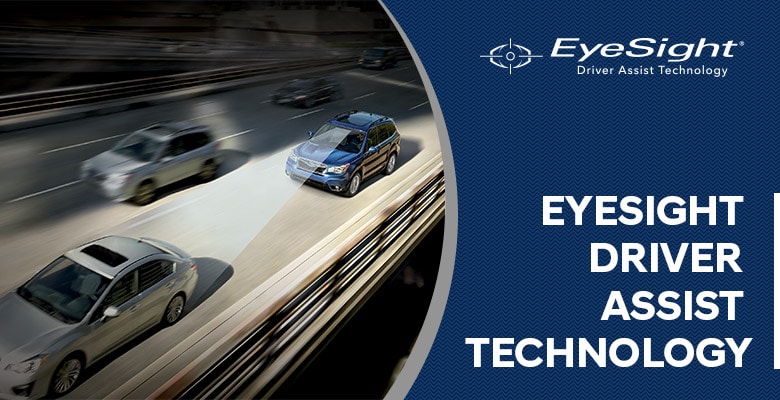 Subaru sets itself apart from other automakers due to its innovative, desirable technologies that give drivers what they want and need. Subaru's EyeSight® Driver Assist Technology represents another step forward in bringing state-of-the-art safety technology to all vehicles and paving the way towards fully-autonomous driving. Not only will this system help all drivers stay safer on the road, but it will particularly help younger drivers become better drivers and keep them safer while they learn.
Continuous Monitoring
EyeSight® Driver Assist Technology is a comprehensive set of advanced, confidence-inspiring safety features that have you covered in a range of road situations. Using a set of dual color cameras near the rearview mirror that function as an extra set of eyes, the system continuously monitors the road around you. Its Lane Keep Assist and Sway Warning feature monitors your vehicle's position within your lane and on the road, helping you stay safely within your lane.
Optimized Visibility
The system also monitors the position of other cars around you on the road, keeping you aware of their positions and thus optimizing visibility. You'll be particularly grateful for the convenient Adaptive Cruise Control feature, which automatically maintains a set speed and following distance from the vehicle in front of you.
Pre-Collision Breaking
To prevent front end collisions, the Eyesight® system includes Pre-Collision Braking, which automatically brakes your vehicle when it detects something in your path, reducing collision or allowing you to avoid collision altogether. To reduce collision, it uses a smart Pre-Collision Throttle Management feature that reduces power from the engine to minimize collision and hopefully reduce damage to your vehicle.
IIHS Stop Safety Pick
The IIHS (Insurance Institute for Highway Safety) considers the EyeSight® system to be top-notch, helping six vehicles in Subaru's lineup earn IIHS TOP SAFETY PICK and TOP SAFETY PICK+ honors, helping drivers to be better assured of its quality. The system is available on many Subaru vehicles-including the Impreza, Legacy, Forester, Outback, Crosstrek, and WRX-offering you support no matter which Subaru vehicle you choose.
Keep Your Family Safe
For unparalleled peace of mind and confidence while driving, EyeSight® Driver Assist Technology is a must. Through the system's alerts and warnings, younger drivers will become better drivers, recognizing areas where they can improve-such as improving their lane-keeping abilities-and helping keep them safe in the meantime.
To experience the advantage of EyeSight® Driver Assist Technology firsthand, stop into DeVoe Subaru of Naples for a test drive of a new Subaru.