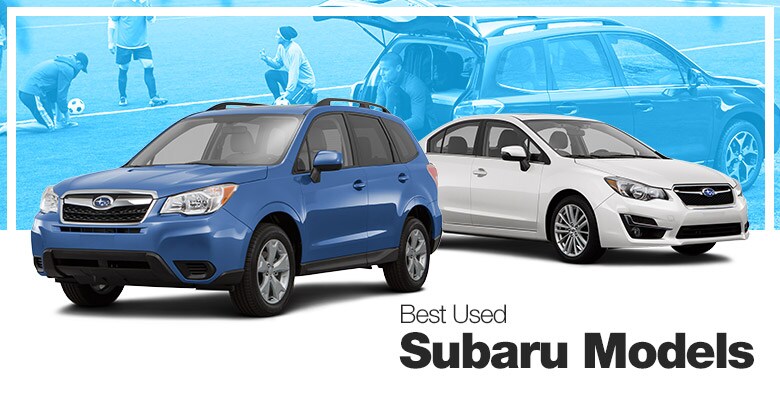 Subaru vehicles are regularly ranked among the top choices for used cars in terms of reliability and longevity. If you are in the market for a long-lasting, new-to-you used vehicle, be sure to put one of these impressive Subaru models at the top of your list:
Subaru Forester
If you want a quality SUV, look no further than the Subaru Forester, a frequent entrant on best used vehicles lists. The Subaru Forester features standard all-wheel drive, a comfortable and spacious interior, and ahead-of-the-curve safety technologies. Depending on the model year, the Subaru Forester offers a variety of engine options, making it easy to find the performance fit for you.
Subaru Impreza
The Subaru Impreza is available both as a four-door and as a five-door hatchback, allowing drivers to find the style that is right for them in terms of aesthetics and intended use. The Subaru Impreza delivers impressive fuel efficiency, standard all-wheel drive, and an engaging driving experience.
Subaru Outback
Adventurous drivers should stop their used-car search with the Subaru Outback. The Subaru Outback is a highly versatile crossover with impressive off-road capability and high standards in fuel efficiency, safety, and overall performance. It's also handsome to look at, helping you make a strong first impression whenever you pull up to the curb.  
Before you make your final choice, keep in mind the following:
·         How many years or miles are you hoping to get out of the vehicle?
·         What will your average use of the vehicle look like?
·         Will you be using the vehicle for extended trips?
·         How important are modern infotainment and convenience technologies to you?
·         What are your fuel efficiency goals?
·         How do you plan to finance your vehicle?
Don't be afraid to ask questions when considering a used or certified pre-owned vehicle. Here at DeVoe Subaru of Naples, we are always happy to speak with our customers about the ins-and-outs of our available used and CPO Subaru models. Our goal is always to help you make a well-informed decision that will keep you happy for many years to come.
Make an Inquiry
Hours
Monday

09:00am - 05:00pm

Tuesday

09:00am - 05:00pm

Wednesday

09:00am - 05:00pm

Thursday

09:00am - 05:00pm

Friday

09:00am - 05:00pm

Saturday

10:00am - 04:00pm

Sunday

Closed